THE RAC CERTIFICATE PROGRAM – OVERVIEW
The National RAC Summit series has always offered a RAC Certificate Program in the form of an optional course within the conference for attendees wishing to take a deeper dive into the Summit's subject matter. In 2018 we are pleased to offer a special Certificate Program in connection with the July 25 – 27, 2018 Physician Advisor-UR Boot Camp in Los Angeles, California.
The Boot Camp Certificate Program Curriculum and Requirements are as Follows:


Complete preconference readings (as needed, up to 4 hours).

Attend the preconference (4 hours).

Attend the entire Boot Camp (12 hours).

Successfully complete the post-conference online examination (1 hour).
Access to the dashboard that includes links to the preconference readings, webcast and exam will be coming soon.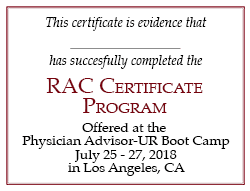 PROGRAM COMPLETION
Those who successfully complete the program requirements and pass the final examination will receive a certificate of completion. Candidates in the program have 90 days to take the exam and have three attempts. A score of 70% or better on the exam is required to earn the certificate.