FEATURED FACULTY

Mike Adelberg
Principal, Faegre Baker Daniels Consulting; Former Director of Medicare Advantage Operations and Former Acting Director of Exchange Policy and Operations, Centers for Medicare and Medicaid Services, Washington, DC

Alyse Adelstein
Digital and Reimbursement Consultant

Marlene Allen, MBA, CHA, CHCO
Compliance Internal Auditor/HIPAA Privacy Officer, Harrisburg Medical Center, Inc., Harrisburg, IL

R. Phillip Baker, MD
Physician Advisor, Self Regional Healthcare, Greenwood, SC

Jennifer Bartlett
Clinical Appeals & Denials Coordinator, Infirmary Health, Former Coordinator Of Patient Financial Services, Infirmary Health, Mobile, AL

Timothy Brundage, MD, CCDS
Medical Director, Brundage Group, Saint Petersburg, FL

Diana L. Cokingtin, MD
Medical Director, Customer Experience, Change Healthcare, Formerly 23 years in managed care with BCBSKC, Coventry, Aetna and Molina, Leawood, KS

Ernie de los Santos
Founder & Faculty Chair at Appeal Academy, Former Creator & Chief Architect, The RAC Shadow Agency, San Antonio, TX

Day Egusquiza
President, AR Systems, Inc., Twin Falls, ID

DeVonne Grizzle, RN, MSN, CCM
Vice President of Case Management, Post-Acute Services, & CarePledge Alliance (ACO), Quorum Health, Fort Smith, AR

Jessica L. Gustafson, Esq.
Founding Shareholder, The Health Law Partners, Farmington Hills, MI

Ronald Hirsch, MD, FACP
Vice President, Regulations and Education Group, R1 RCM Inc., Chicago, IL

Gary Jacobs
Managing Partner, Circumference Consulting, Alexandria, VA

Maria Johar, MD, MBA
Physician Advisor, Toledo, OH

Michele Marcum, CHFP
Senior Contract Specialist, Saint Alphonsus Health System and Saint Alphonsus Health Alliance, Formerly in Network Development and Contracting with Humana and Aetna, Boise, ID

John Montaine, MBA, FHFMA, HRM
Chief Executive Officer, Creative Managed Care Solutions, LLC, San Antonio, TX

Steve Neorr, MBA
Senior Vice President, Cone Health, Chief Administrative Officer, Triad HealthCare Network, President, HealthTeam Advantage, Greensboro, NC

Ed Norwood
President and CEO, ERN Enterprises, Inc., President, National Council of Reimbursement Advocacy (NCRA), and CCO, The Reimbursement Advocacy Firm (TRAF), Cypress, CA

Abby Pendleton, Esq.
Founding Shareholder, The Health Law Partners, Farmington Hills, MI

Jamie Reynoso
Chief Executive Officer, Memorial Hermann Health Solutions, Inc., Houston, TX
TESTIMONIALS FROM PREVIOUS PHYSICIAN ADVISOR – UR TEAM BOOT CAMPS
– I have been completely blown away by this conference. This was put together professionally and with great thought. Thank you for doing this Boot Camp and being willing to educate us! Day Egusquiza, you are an exceptional chair!!
– Rarely, if ever, have I attended a conference with such consistently good speakers.
– The content was consistently PA-UR but the varied perspectives of speakers provided a 360 degree approach — excellent!
– I believe a lot — a whole lot — of the excellent feedback is due to the thorough planning and the professional execution of The Boot Camp. The participants both in person and online were treated respectfully. I have attended more than 100 CME conferences over 35 years and respect for the audience's needs and time was lacking in most.
– Congrats to you both for putting together the best PA conference I've ever attended, and I've attended quite a few!
– First of all, thank you for a wonderful educational opportunity. I learned so much. More appropriately it confirmed much of what I already thought and envision for my institution. Perhaps I can use this knowledge and new found energy to bring my administrators along into this "new age" a bit more quickly and with some urgency.
– Thx for info today – can't wait to go back to my system and help "tell the story from the beginning"
– Really liked the case studies over lunch and going over them after
– Fantastic conference – can't wait to go to another one!
PARTICIPATION OPTIONS
TRADITIONAL ONSITE ATTENDANCE
Simply register, travel to the conference city and attend in person.
Pros: subject matter immersion; professional networking opportunities; faculty interaction

LIVE AND ARCHIVED WEBCAST PARTICIPATION
Watch the conference in live streaming video over the Internet and at your convenience at any time 24/7 for the six months following the event.
The archived conference includes speaker videos and coordinated PowerPoint presentations.
Pros: Live digital feed and 24/7 Internet access for next six months; Accessible in office, at home or anywhere worldwide with Internet access; Avoid travel expense and hassle; No time away from the office.


WEBCAST INTERFACE SAMPLE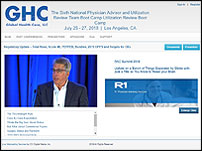 Click here for a sample stream


THE 2018 SIXTH NATIONAL PHYSICIAN ADVISOR AND UTILIZATION REVIEW BOOT CAMP CONTENT IS NOW AVAILABLE IN VARIOUS POST CONFERENCE FORMATS
The 2018 Sixth Physician Advisor and UR Boot Camp conference content is now available in a variety of formats.
You may now purchase the packaged Physician Advisor and Utilization Review Team Certificate Program, which includes preconference readings and online courses, the conference video with synchronized PowerPoint presentations and the post conference online exam. This content is perfect for corporate compliance training programs and can be purchased at deep group discounts.
Alternatively, you may purchase just the Summit streaming content in the following formats: Flash Drive or online archive (6 months access).
THE COMPLETE ONLINE PHYSICIAN ADVISOR AND UTILIZATION REVIEW TEAM CERTIFICATE PROGRAM IS NOW AVAILABLE


Includes:



Background readings (available online)

Streaming Video of entire Physician Advisor and Utilization Review Team Boot Camp with synchronized PowerPoint presentations (18 hours of content) (6 months of access – 24/7)

Online examination with certificate of completion



Integrates easily into corporate compliance training program

Purchase individually for $395

Or license multiple seats as follows:



5 or more for $295 each

10 or more for $195 each

20 or more for $95 each
ALTERNATIVELY YOU CAN PURCHASE JUST THE 2018 SIXTH NATIONAL PHYSICIAN
ADVISOR AND UTILIZATION REVIEW BOOT CAMP CONTENT AS FOLLOWS:

Online Archive of 2018 Sixth National PA/UR Boot Camp Presentations today!
Complete conference: $195

Flash Drive of 2018 Sixth National PA/UR Boot Camp Presentations today!
$195